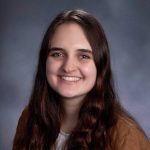 Tarah Jordan
Graduate Assistant
Phone: 860-486-9185
Email: tbh21003work@uconn.edu
Tarah joined the Office of Institutional Equity (OIE) as a Graduate Assistant (GA) in August 2021. Tarah works on the Title IX team to help log, collect, and analyze data from reports of sex discrimination, sexual assault, sexual harassment, stalking, and intimate partner violence. From this information, she helps track and address institutional trends in order to make meaningful changes across UConn's campuses.
In their GA role, Tarah also prepares educational and informational materials regarding discrimination, harassment, and related interpersonal violence; facilitates presentations and trainings for students and employees; and collaborates on other office-wide projects.
Tarah is currently pursuing a Higher Education & Student Affairs Master's degree at UConn. They earned a B.A. in Women's & Gender Studies and a minor in Political Science from Clark University in 2020.