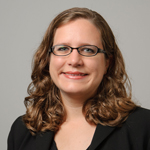 Sarah Chipman
Director of Investigations,
Deputy Title IX Coordinator
Phone: 860-486-2943
Email: sarah.chipman@uconn.edu
Sarah Chipman joined the Office of Institutional Equity (OIE) as an EEO Investigator in July 2014, and served as the Associate Director of Investigations from August 2015 through December 2016.  Since January 2017, Sarah has been managing OIE's case investigations for both the Storrs/Regional and UConn Health offices as OIE's Director of Investigations and Deputy Title IX Coordinator.  In this role, she conducts investigations regarding complaints of discrimination, harassment and retaliation involving University employees, and guides the investigative staff in managing all aspects of case investigation and the production of investigative reports. In addition, as Deputy Title IX Coordinator, she assists the Title IX Coordinator in ensuring a University environment free from discrimination and harassment based on sex, with a particular focus on workplace conduct.  Sarah trains members of the University community on policies and procedures related to preventing and responding to reports of discrimination, harassment, retaliation and sexual violence; and provides assistance to the Title IX Coordinator with sexual harassment and sexual violence prevention and education efforts to ensure UConn's commitment to creating and maintaining a campus environment free from all forms of sexual violence, harassment, exploitation, and intimidation.
Prior to joining the University, Sarah worked as an attorney for an employment law firm in Simsbury, CT representing both management and employees.  In that position, Sarah handled cases involving all aspects of employment law, including discrimination, harassment, retaliation, unpaid wage claims, employment agreement negotiations and disputes, and unemployment compensation matters.  In this capacity, Sarah handled claims of sexual harassment, as well as claims of race, age, gender, disability, and national origin discrimination.  She frequently appeared in administrative proceedings before the Connecticut Commission on Human Rights and Opportunities (CHRO), the Connecticut Department of Labor, and the Massachusetts Commission Against Discrimination.  In addition to her litigation matters, Sarah drafted and revised employee handbooks and workplace policies and counseled both employers and employees as to disciplinary matters and processing of requests for reasonable accommodations for employees with disabilities.  Sarah is admitted to practice law in the State and Federal courts of Connecticut and Massachusetts.
Sarah earned her law degree from Western New England University School of Law in Springfield, Massachusetts, where she was an officer and member of the American Association for Justice Trial Team.  She also participated in the school's Consumer Protection clinic where she represented indigent clients in small claims and housing matters.  During law school, Sarah received a number of excellence awards for her course work and completed internships with the CHRO, the Connecticut chapter of the American Civil Liberties Union, and the Division of Public Defender Services in New Haven.  Sarah earned her Bachelor of Arts degree in History from Central Connecticut State University, where she graduated magna cum laude and received the History Departmental Honors Award.