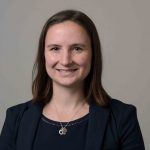 Alexa J. P. Lindauer
Associate Director of Investigations
Phone: 860-679-3151
Email: lindauer@uchc.edu
Alexa Lindauer joined the Office of Institutional Equity (OIE) in June 2017 as an EEO Investigator.  Since January 2020, Alexa has been OIE's Associate Director of Investigations.  In her role, Alexa assists in providing leadership at OIE's UConn Health office and to OIE's Case Investigations team.  Alexa conducts investigations into complaints of discrimination, harassment and retaliation involving University employees, including employees of UConn Health, and prepares written decisions and recommendations based on her factual findings.  She also provides training to members of the University community on policies and procedures related to preventing and responding to reports of discrimination, harassment and retaliation.  Alexa is involved with several committees and working groups at the University, including the Something's Happening Committee, the Age Act Committee, the Minor Protection Committee and a clinical employee/patient discrimination working group.  Alexa is also a member of the National Association of College and University Attorneys, and serves on its Committee on Web Page Legal Resources, and its Higher Education Compliance Alliance Subcommittee.
Prior to joining OIE, Alexa worked as an attorney at Beck & Eldergill, P.C., in Manchester, Connecticut, focusing on employment law. At Beck & Eldergill, Alexa represented employees and management in cases involving discrimination, harassment, retaliation, wage and hour, whistleblower, non-compete, worker's compensation retaliation, FOI, FMLA and unemployment compensation claims. She handled cases from the initial intake through trial and appeared before the Connecticut Commission on Human Rights and Opportunities, the Connecticut Department of Labor, and a variety of state and federal courts. In addition, Alexa has argued before the Connecticut Appellate Court. Alexa is admitted to practice law before Connecticut's state and federal courts, and before the Mashantucket Pequot Tribal Court.
Alexa earned her law degree from the University of Connecticut School of Law in 2010, where she volunteered with the Connecticut Unemployment Action Center, was a Women Law Students' Association mentor, and was the News Editor of Pro Se, the School of Law's student-managed newspaper. Alexa earned her Bachelor of Arts degree in Government with a minor in Philosophy, cum laude, from Colby College in Waterville, Maine, in 2007. While at Colby, Alexa was the Sports Editor of The Colby Echo, played on the Women's Rugby team, and played trombone in the Jazz, Wind and Trombone Ensembles, in addition to the Orchestra.